the ultimate threats
Gillnets

Gillnets are used in unsustainable and illegal fishing practices in the Gulf of California by Mexican fishermen. Despite the Mexican government banning these nets, their use has continued illegally. This has especially occurred during shrimp fishing and Totoaba fishing. Vaquitas become entangled in the nets and are unable to reach the surface to breathe. This results in the drowning of Vaquitas driving them towards extinction.

YOU can help by only eating sustainably caught shrimp and fish which will help to encourage fisherman to use sustainable methods to sustain their business. You can utilize SeaFood Watch Cards to aid in choosing the most sustainable options!

Totoaba Fisheries

Demand for the Totoaba drives illegal fishing practices through the usage of gillnets, the largest threat to the Vaquita population. Even though Totoaba are also an endangered species themselves, consumers choices and their demand for the fish has led to the dwindling number of both populations. YOU can help by making informed consumer choices and only opting to eat sustainable seafood! Together we can help to save both the Vaquita and Totoaba.

People

Consumer demand can perpetuate unsustainable practices such as unsustainable and illegal fisheries. If consumers continue to drive the demand for these unsustainable seafood products, consumers will not only threaten the Vaquita but also other species from around the world. We must remember that OUR actions have tremendous impact on the environment around us and WE must take the precautionary steps to help preserve our planet!
Why Care?
| | |
| --- | --- |
| The most obvious reason to take action is to save the Vaquita, the most endangered marine mammal in the world. By saving the Vaquita the overall health of the ecosystem will also be preserved, which plays an important role in the well being of many other species. | Saving the Vaquita will help to build the foundation of a more sustainable future. By bringing attention to the environment, and individuals environmental habits TOGETHER we can help to preserve other ecosystems and species such as the Totoaba. It is important to remember that changing your own actions will not just help the Vaquita but also other species and environments around the world! |
Powered by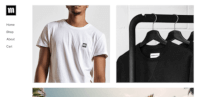 Create your own unique website with customizable templates.