The vaquita

Vaquitas are the most endangered and the smallest of the cetaceans, only reaching about five feet long and 120 pounds! They are native to the Gulf of California off of Mexico. The current population of Vaquitas is approximately 30 individuals, and the rate of decline is 50% per year. The Vaquita's population has never reached over 3,000 individuals, which makes the fight for their conservation more imperative.

Participate in Vaquita awareness by using the hashtag #4Porpoise!
---
Where are they Found?

The Northern part of the Gulf of California

This is a prime location for Vaquitas, as it is rich in resources such as fish and shrimp. The Vaquita is an endemic species, found only in this area, and were most likely stranded in the Gulf of California due to glacial movement which led to them to evolve into a new species of porpoise!
---
---
Want to Help the vaquita?

Join myActions to log your environmental actions and see how you're new habits help save the Vaquita!

MyActions
Powered by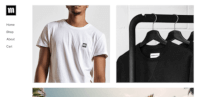 Create your own unique website with customizable templates.